A Note About:
Utah Pack Pannier Iron Weave
Made from rugged iron weave fabric. Will not mold or rot. Heavy duty reinforced seams sewn with heavy thread. Leather straps.
"We love these bags!!"Bob & Terri Beecher-Out West Saddlery
Out West Saddlery High Quality Pack Set includes 2 Utah Style Iron Weave Pack Bags 25" H x 26 1/2" W x 6" Bottom & Sides.
**Most sets come with russet colored leather. Call for current price of set or individual pieces.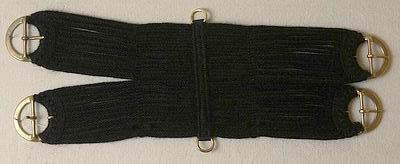 Pack/Riding 100% Mohair Cinch $110.00
38 Strands Center. 2" Longer for the back rigging. Black w/Brass Buckles.
*This cinch is not only great on a pack saddles but a great solution for horses/mules with flat backs where the saddle wants to roll. Use with cinch straps on the near side and billets on the off side.
Stock Lengths: 28"/30", 30"/32", 32"/34", 34"/36" (Special lengths available)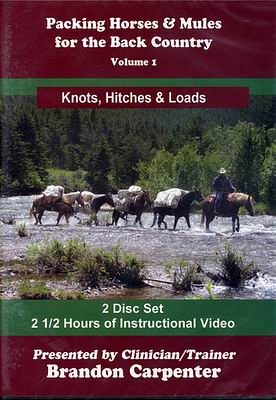 Packing Horses & Mules for the Back Country Vol 1
Knots, Hitches & Loads
$49.95 DVD
Brandon Carpenter, a life long horseman, renowned trainer, clinician, and former Montana game warden, presents this technical packing video for your instruction. Brandon Carpenter teaches you the same skills he uses while traveling the rugged back country wilderness of the American Northwest. His presentation style makes the material easy to follow and duplicate. All tolled he offers 11 different hitches or loads.
This practical guide teaches: * Rope needs & knots * Packing panniers & boxes * Saddle types & fit * Saddle tree fitting * Building & packing manties * Tying & throwing hitches * Equipment needs & types * Packing game & antlers * And much more
This in depth portrait of packing gives you the essential skills to successfully pack horses and mules into rugged wilderness areas even if you are a beginner. Seasoned packers can also learn some new tricks!