A Note About:
Utah Pack Pannier Iron Weave
Made from rugged iron weave fabric. Will not mold or rot. Heavy duty reinforced seams sewn with heavy thread. Leather straps.
"We love these bags!!"Bob & Terri Beecher-Out West Saddlery
Out West Saddlery High Quality Pack Set includes 2 Utah Style Iron Weave Pack Bags 25" H x 26 1/2" W x 6" Bottom & Sides.
**Most sets come with russet colored leather. Call for current price of set or individual pieces.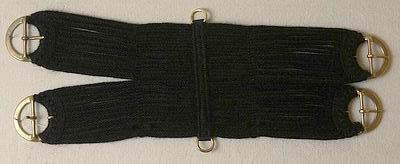 Pack/Riding 100% Mohair Cinch $110.00
38 Strands Center. 2" Longer for the back rigging. Black w/Brass Buckles.
*This cinch is not only great on a pack saddles but a great solution for horses/mules with flat backs where the saddle wants to roll. Use with cinch straps on the near side and billets on the off side.
Stock Lengths: 28"/30", 30"/32", 32"/34", 34"/36" (Special lengths available)