Inventory Reduction Sale 20% Off Everything On This Page!!
Leather Stampede Strings w/Tassels #AAHH503 $36.00
Black w/Black Tassels
Rust w/Mixed Brown Tassels   Only 1 Left!
Leather Braided Stampede Strings with Rawhide Knots & Rings
and Leather Tassels
SS60RK2   $42.00
Only 2 Left!

Leather Braided Stampede String with Braided Leather Knots and Rings and Leather Tassels
WWSS50  $48.00
Black   Only 2 Left!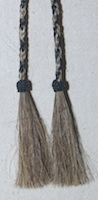 Braided Horse Hair Stampede String with Horse Hair Hitched Knots and One Tassel
WWHH56     $30.00
Black & White String with White Tassel
Only 1 Left!

TriColor Horse Hair Braided Stampede Strings
Black/Sorrel/White with Black Tassels
Mixed Brown with Mixed Brown Tassels
Black/Sorrel/White with Mixed Brown Tassels
CHSSCP  $16.00
Horsehair Braided Stampede Strings w/Decorative Bead Black String w/Black Tassel AAHH501F $23.00 ONLY 1 LEFT!
Loop Stampede Strings The following is how to install loop stampede strings. You have to have one small grommet on each side of your hat positioned just in front of your ears.
First: Poke a loop through each grommet.
Second: Cross one loop over the crown.
Third: Cross the other loop over the crown.
Horsehair Braided Stampede Strings w/Double Mule Tail Tassels & Loops AAHH500M $26.00 
Horsehair Braided Stampede Strings w/Triple Mule Tail Tassels & Loops AAHH500MT $27.00