Inventory Reduction Sale 20% Off Everything On This Page!!
Leather Stampede Strings w/Tassels #AAHH503 $36.00
Black w/Black Tassels
Rust w/Mixed Brown Tassels   Only 1 Left!


Leather Braided Stampede String with Braided Leather Knots and Rings and Leather Tassels
WWSS50  $48.00
Black   Only 2 Left!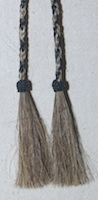 Braided Horse Hair Stampede String with Horse Hair Hitched Knots and One Tassel
WWHH56     $30.00
Black & White String with White Tassel
Only 1 Left!

TriColor Horse Hair Braided Stampede Strings
Black/Sorrel/White with Black Tassels
Mixed Brown with Mixed Brown Tassels
Black/Sorrel/White with Mixed Brown Tassels
CHSSCP  $16.00