The reins we have in stock are 20% Off.  We have the romal reins as well as split reins and roping reins.  Romal reins are rawhide and leather.  The split reins are leather with rawhide accents, horse hair, mohair and yak.  The roping reins are braided & harness leather and horse hair.
Bridle Leather w/Flat Braided Rawhide w/Rust Latigo Accents Basket Stamped.
Brown w/Rust Dec  96" Long
#VLD20 $140.00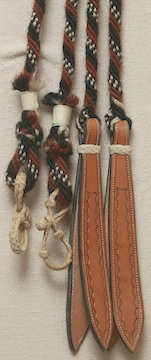 #1
Two of this Color
Available!
Mohair Split Reins
5/8" w/Rawhide Connectors $196.00
Approx. 8 1/2' Long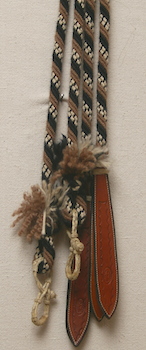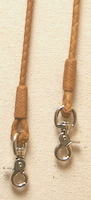 Round Braided Leather Roping Reins
Natural w/Stainless    93 1/2" long
WWSRR04  $84.00
Horsehair Roping Reins w/Tassels!
1/2" $156.00
One Pair!
Horse Hair Roping Reins
5/8" w/Rawhide Connectors $84.00
Approx. 8 1/2' - 8 3/4' Long