Inventory Reduction Sale 20% Off Everything On This Page!!
"Martin Black knows horses from the inside out. He has learned the Buckaroo style horsemanship from his people of the Great Basin country. They were legends in their own time. Martin has carried this style of  Buckaroo and Vaquero work for all to view. Great Job!" - Ernie Morris
ROUNDPEN TO ARENA Series From the Great Basin Tradition with Martin Black
Roundpen To Arena
Part 1 - Foundation
Martin takes a 3-year-old from ride 5 to ride 11, as you watch  the progression of each ride you will see the quiet manner the cold maintains as  he advances through the basic maneuvers to establish a well rounded  foundation.
Running Time 1 hour 20 min.
$49.95
Roundpen to Arena
Part 2 - Progression
Martin demonstrates on a 3-year-old with 60 rides how the earlier foundation  work starts to take shape with more precision and speed, and at the same time  maintains the colt's confidence.
Running Time 1 hour
$49.95
Roundpen to Arena
ParT 3 - Refinement
Martin demonstrates with more experienced horses the progression of the  maneuvers to a higher level, and gives some exercises and tips that were not  covered in #1 and #2.
Running Time 1 hour
$49.95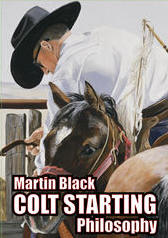 Colt Starting Philosophy by Martin Black
Topics Covered:
*Martin's five basic principles of horsemanship
*A horse's need for self-preservation
*Finding and using the center of gravity
*Seeking relief vs. yielding from pressure
*Creating a crisis to gain confidence
*Working with an aggressive stallion
*Also, halter preparation, catching, saddle preparation, flag work, saddling, bridling, preparing to mount, first ride, transitions, and much more
$49.95 DVD
Approx. Run Time 1 hour 45 minutes