Inventory Reduction Sale 20% Off Everything On This Page!!
The Man
Ray Hunt has started more than 10,000 colts. For the last 30 years he has been giving educational clinics throughout the U.S., Canada, Australia, and Europe.
Ray Hunt - Back To The Beginning Vol. 1
DVD $29.95
From the time it all began, Ray Hunt has tried to show the human how to approach the horse. Many have tried to emulate, which is the highest form of flattery, but none have had the feel, timing and balance which Ray works on still to this day. Ray is always working from where the horse is at, being aware of the horses physical and mental expression. There is nothing mystical, just a man with a passion for horses ever thinking, ever feeling, always working on how much less he can do to get the understanding come through. 
A real treat! This DVD is a 60 minute demonstration of Ray's colt starting magic from the early 80s. You will not be disappointed in this valuable footage of the master.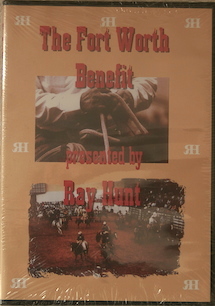 Fort Worth Benefit
Ray Hunt
Fort Worth, Texas where some of the world's greatest horse men and women meet for two days of Colt Starting and Horsemanship under the watchful expert eye of Ray Hunt.  But most of all, they've come to pay tribute to Tom Dorrance, the legendary man who changed the way the human relates to the horse, somewhat to the benefit of the human, but greatly to the benefit of the horse.  This two-part series captures the excitement, the humor, the fun, and most of all, the dedication to the horse and to giving him the best deal possible.
Mornings are for Colt Starting.  The clinicians randomly draw for colts from four ranches:  Hunt, 6666, Pitchfork and Moorehouse.  We follow the clinicians over two mornings as they catch the colts, work them on the ground, saddle them and - with Ray's insight and coaching - take that first all important ride.
Afternoons are saved for Horsemanship Class.  Here we meet new participants, joining some of the clinicians from the Colt Starting class.  Many have come with their own horses in tow, while others ride horses supplied for them.  Since the horses have various levels of experience, Horsemanship Classes are both insightful and exciting.
$69.95