(Also called Wedding Shirts) We were very excited to find a supplier for these wonderful shirts! We have been collecting them for ourselves for years only able to find them once in a great while and we have never seen this many beautiful colors! They are 100% Pima Cotton Preshrunk. They are great for horseback riding and the best shirt for wearing with wild rags and/or vests for that old time cowboy look. You can't beat the comfort, durability, and softness.
***Care Instructions: For best results wash in cold water, fluff in air/no heat dryer to take out wrinkles, hang to finish drying.
Natural
*Available in XXXL
Chocolate
*Available in XXXL
Forest Green
*Available in XXXL
Dark Teal
*Available in XXXL
Slate Blue
*Available in XXXL
Colors
S-XL $48.00
XXL $52.00
XXXL $55.50 (Limited Availability)
Natural
S-XL $44.00
XXL $48.00
XXXL $50.00
White (Lighter Weight)
S-XL $40.00
XXL $42.00
Buy 2 or more shirts and deduct $2.00 per shirt!
*These are men's sizing and are cut big.
Women's Size Conversion:
(This is approximate and remember they run big)
Small=Women's Medium
Medium=Women's Large
Large=Women's X Large
X Large=Women's 2X Large
**Colors & fabric weight can vary a little from batch to batch!!
(I can wear a small or medium depending on how blousy I want the shirt.)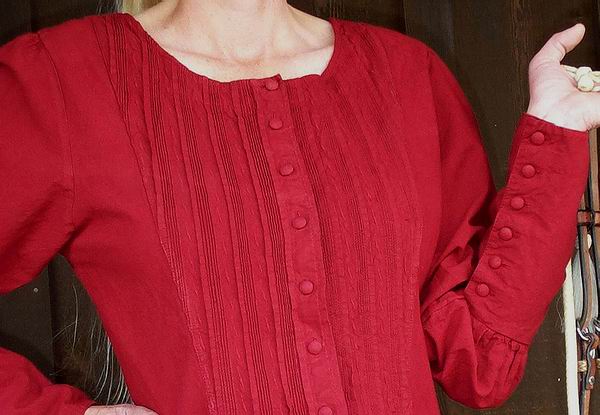 These beautiful, old time style, finely detailed dresses are very comfortable (in fact it is one of the few dresses you will catch me wearing!) with a drop V waist, lightly fitted in the bodice, the material is the same as our shirts. The one I am wearing is in the brick color, it is a large, the sleeves are extra long (a medium is actually more fitted but a little short for my taste). I average about 150 lbs. and I am 5'8" to give you an idea on the length and size).
Colors available are:
Blue, Teal, Brick, Black, and Plum
S-XL $94.00
*Small (For a small women or teenager)
Discontinuing Stocking...on sale what is left in stock for $59.95 while supplies last!!
Have left in stock:
Small: Black & Plum
**Will special order at regular price with no return!