Out West Saddlery Custom Curb Straps
The five curb straps below are samples of custom curb straps.  Buckles and conchos can be customized for each curb strap and the leather can be stained to match your headstall.
Staining adds $5.00

Plain Out West Saddlery Curb Strap with a plain buckle
$20.00

Plain Curb Strap with Fancy Buckle
$22.00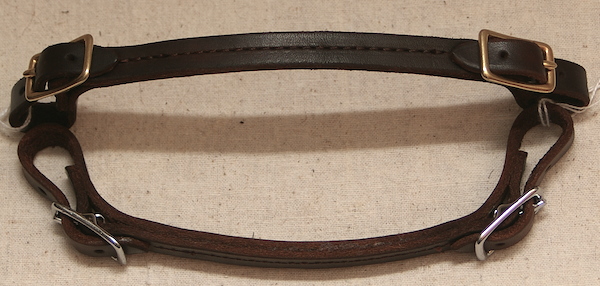 Stitched Out West Saddlery Curb Strap with Plain Brass or Stainless Buckles
$30.00

Curb Strap with Conchos
Price varies with Conchos chosen
Inventory Reduction Sale 20% Off Everything Below!!
Bit Hobbles:
*For use in spade and snaffle bits only!
8 Plait Rawhide Braided Bit Hobble or Curb. 7"-9" Long.
#RHBH08 $27.00
Curb Straps w/Tassels, Rawhide Braided Knots & Accents
Specify Tassel Color
#HC02 Harness Leather $30.00 (Pictured)
Grey-Only 1 left!
OR #LC01 Latigo Leather $30.00
Grey-Only 1 left!
Latigo Leather Curb w/Rawhide Button & Rings
Nickle Buckles only
#LC03B $25.00
Harness Leather Curb w/Rawhide Button & Rings
Nickle Buckles only-Not Pictured
#HC04B $24.00
Latigo Leather Curb w/Decorated Rawhide Long Button, Nickel Buckles
Black 
#SLC09D $50.00
Latigo Leather Curb w/Rawhide Long Button, Nickel Buckles
#SLC09 $40.00