Tri-Color (Natural, Sorrel & Black)
Green Tri-Color (Natural/Green/Dark Brown)  34" with Brass in stock - other sizes can be ordered
100% Mohair Regular Style Cinches
Center 6 3/4"/24 Strands Wide
Brass or Stainless Steel Hardware
When ordering specify: Length, Color, Hardware
Lengths 28" - 36" (custom lengths available)
$110.00
**Some custom colors available on mohair cinches!  Colors other than what we have listed may not be 100% mohair
**Custom sizes available!!  Cinches 38" and over add $20.00






Chocolate & Black
Special Order
100% Mohair Roper Style Cinches
Center 8 1/4"/30 Strands Wide (1 color are 31 strands)
When ordering specify: Length, Color, Hardware
Lengths 28" - 36" (custom lengths available)
Brass or Stainless Steel Hardware
$110.00
**Custom sizes available!  Cinches 38" and over add $20.00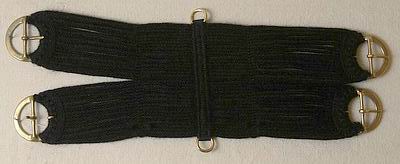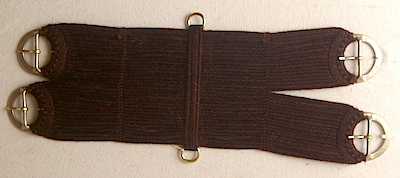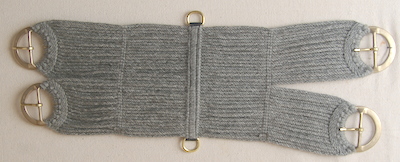 100% Mohair Pack Cinch $130.00
This pack cinch can be used for riding or packing.
Center 10"/38 Strands Wide. One side 2" longer for the back rigging.
Black or Chocolate w/Brass Buckles (other colors & stainless buckles available by special order)
Stock Lengths: 28"/30", 30"/32", 32"/34", 34"/36" (custom lengths available)
*Our custom pack cinches that are made for riding saddles make the saddle have a universal, super wide center fire rigging position! Very comfortable for the horse, pulls down equally from the front and back with the front angling back and back angling forward. Helps free up the shoulders, don't have to cinch as tight, secures the saddle better than a regular cinch and back strap!

**Custom sizes available!! Cinches 38" and over add $20.00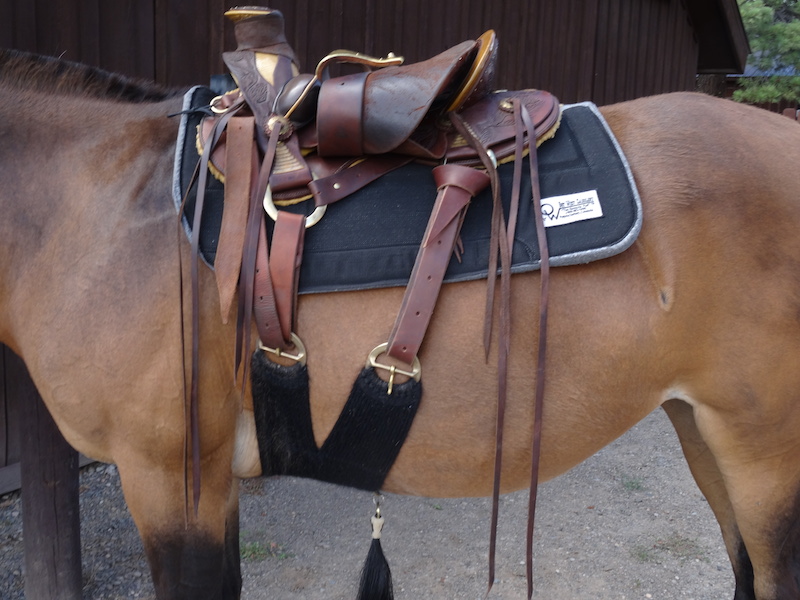 Our special designed Pack Cinch is shown with a riding saddle!
The pack cinch is 2" longer on the back half with a D-ring for the breast collar.
The pack cinch spreads cinch pressure over a very large area further back for more comfort and stability for the horse.  The pack cinch does not have to be as tight.
The front half of the cinch stays out of the way of front leg movement which is especially helpful for gaited horses.  By using this pack cinch set up, a breast collar and a crupper,  your saddle will be more stable even on the most rolly polly horses provided the saddle does not have any fit issues.
The pack cinch works great for any riding discipline including roping.